Leadership Programs
When women lead, we all win
Our campers are encouraged to dream big and embrace themselves and their strengths by breaking down barriers that divide girls, such as socioeconomic status, race, body image, family structure, etc. Through fun experiences and interactions, The Oasis Center encourages leadership development, community service, teamwork, decision-making skills, and good communication, while promoting self-esteem and healthy living. The camp is designed for girls ages five to fifteen, and tuition is based on a sliding scale with scholarships available based on need.
Check out some of the fun things the girls did last year on our Facebook page
The Summer Camp 2018 reservations open March 4th. Be sure to register early to reserve your child's place.
Girls ages 5-13
Junior leaders program for girls ages 11-13
Girls to the Rescue week: June 4-8

Make a difference, and save a life! Girls will learn about professions that help keep others safe in our community. Girls will spend time with women in public safety fields like firefighters, police officers, doctors, and paramedics. Activities may include learning age-appropriate skills for crime scene investigation with the Tallahassee Police Department and practicing fire rescue techniques with the Tallahassee Fire Department.

Adventures of a Girl week: June 11-15

Girls will tap into their adventurous side this week. Girls' may experience thrilling excitement like reaching new heights rock climbing, canoeing at FSU's Reservation, or learning how to roller skate from the best with the Tallahassee RollerGirls. Other activities will include things like practicing skills to survive in the great outdoors and learning about different sports!

Girls can Build Anything: June 18-22

Together we can build anything!  Girls will engage in many hands-on experiences this week. They will learn how to draw and construct models with local architects and engineers. In addition, they will be learning what it is like to start a Tiny Home community. Girls will engage in a community service project to build something that benefits the community. They will also learn how to build digitally, spending the day learning all about coding and robots!

I Heart Art: June 25-29

During I Heart Art week, girls will explore all kinds of different arts, whether it be with a camera, through dance, with a paintbrush, in clay, through music, and much more! Campers will spend time with successful local women artists and learn more about the artistic journey while embracing their own strengths and creativity. This week of camp will culminate in an art gallery exhibition that will be open to the public on

Friday, June 29th

.

Girls Mean Business (2-week session): July 9-20

Together, girls will have the opportunity to plan and create their very own business! In a fun setting, girls will explore all the components of starting and running a company from public relations, product design/marketing, financials, sales, operations, and even incorporate philanthropy. The girls will learn from women business leaders in our community and launch their enterprise on

Friday, July 20th

. This is a two-week camp session. To participate your girl must be enrolled for the full two-weeks.

Science Rocks week: July 23-27

Girls will explore a variety of scientific and technical fields from oceanography to physics and will be led in hands-on projects by women scientists in our community. Field trips will include awesome and experiential trips to real labs and the Challenger Learning Center. Girls will also get to do their own experiments for some silly science fun.

Animal Expedition: July 30-August 3

This week is all about animals! Girls will meet many critters including those that swim, fly, stomp, and roar. Girls will go horseback riding and meet many women in a variety of animal-related professions such as veterinarians, those who use pets to help others through animal therapy, and more!

In addition to field trips and activities based on the weekly theme, girls in every week will go swimming, engage in physical activity, eat healthy snacks, participate in a community service project, and have lots of silly camp fun.

Limited reduced scholarships are available  ALL SCHOLARSHIPS HAVE BEEN DISTRIBUTED
A deposit of one week's camp amount required for registration
10% discount for sisters attending at the same time
We can't thank last year's sponsors enough for supporting our campers!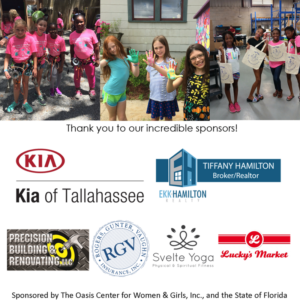 Ordinary women have played an extraordinary role in the history of our country and community. At The Oasis Center, we honor incredible acts of courage and determination by local women and girls.
The Trailblazer Project celebrates the contributions of local sheroes who have shattered glass ceilings and broken through barriers. The diverse group of Trailblazers have made a positive impact on our community and continue to pave the way for other women and girls to follow.
You are invited to nominate local women and girls in your community for recognition. Honorees are recognized during the Women's History Month Community Luncheon in March of each year. Award categories include the Trailblazer Award, Unsung Shero Award, and Girls Can Do Anything! Award.
Join us for the Women's History Month Luncheon on 

Friday, March 23, 11:30am-1:00pm.
Celebrate local women's history and meet the 2018 Trailblazers!
The Trailblazers In School's project
is a fun 45-minute interactive presentation that introduces children to the stories of local women who have broken barriers, shattered glass ceilings, and changed history.
The curriculum is based on Sunshine State Standards for Social Studies, presentations are facilitated for 2nd – 5th graders by trained volunteers and team members and focus on local women's history. The program is available to your students FREE of charge.
Presentations are held each Spring.
If you are a parent of an elementary age child, please help us bring local women's history into the classroom by making an introduction to your child's teacher.
Please help us spread the word!
For more details please call the Oasis Center at
850-222-2747
Women's History Month began as a grassroots effort led by women who observed that there was a lack of education in schools about the contributions of women in history. In response to this invisibility of women's accomplishments in the history books, women organized locally and regionally to fill the gap by providing presentations in schools and organizing community programs to raise awareness. According to the National Women's History Project, the formal recognition of women's historic achievements on a national level began in 1980 when President Carter proclaimed the week of March 8th as National Women's History Week. In 1987, this celebration was expanded by Congressional Resolution to an entire month and became National Women's History Month. Locally, the City and County Commissions have consistently proclaimed March as Women's History Month every year since 2009. On March 8th, International Women's Day is celebrated in many countries across the globe each year.To learn more or for great resources to celebrate National Women's History Month, please visit the National Women's History Project.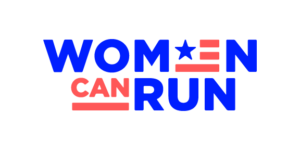 Women Can Run! Is a nonpartisan program which encourages and trains women to run for public office. If you are a woman who is considering throwing your hat in the ring now, or in the future, this conference is for you!
If you were able to attend last year's conference then you already know how amazing our guest speaker Beth Matuga is. We are happy to announce that she has agreed to speak in even greater detail about how to fund your campaign. She will be hosting a workshop in Tampa on May 5th from 9AM – 12PM at the Hilton Garden Inn. Tickets are on sale now, don't miss this opportunity to learn everything you need to fund your run for public office.
Oasis continues to host events like this to help women get engaged in public office. Look for more Women Can Run workshops coming soon in your Florida city!
---
The 2017 conference was held in downtown Tallahassee, 1-3 Septemeber, 2017.
The conference had two tracks with breakout sessions tailored to meet the individual needs of the participants:
I'm Ready to Run, Now What? for women planning to run for office in the immediate future
I'm Not Ready to Run Yet, But… for women who want to learn more about positioning themselves for public leadership in the more distant future
We had incredible speakers, interactive training, and inspiring examples of women in office coming, we can't wait to see you at the next Women Can Run! Conference! Head over to the website for more details.
Find more information on the Women Can Run! website WomenCanRun.org
A huge shout out to last year's sponsors!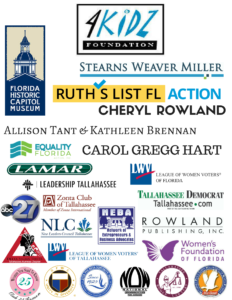 Girls for Change is a 10-13 weeks group designed to facilitate connections between girls, foster a commitment to social justice topics, and develop skills to affect social change. Throughout the program, girls will learn about how systems of oppression affects them, their peers, and people in their communities. Together, they will learn the skills needed to create social change, which will culminate in the development of an individual social change project that they might want to implement upon completion of the program.
For the first 8-10 weeks, the group will focus on exploring topics such as sexism, racism, and heterosexism, as well as developing activism skills. The last 2-3 weeks will be dedicated to the development of their social change, action-oriented project. The ideas for the projects will emerge from each individual and be developed as a group. Hosting a public-service announcement about bullying? Write/perform a play about the impact of gender stereotypes? Holding a poetry slam? The possibilities are endless!
Each week you can expect the group to start and end on time. A snack will be provided, and a trained Oasis staff member will facilitate each group. Schedule and topic changes may occur based on the group dynamics.
To learn more, contact Liovani by email or call 850-222-2747.