The Celebration of Women and Girls!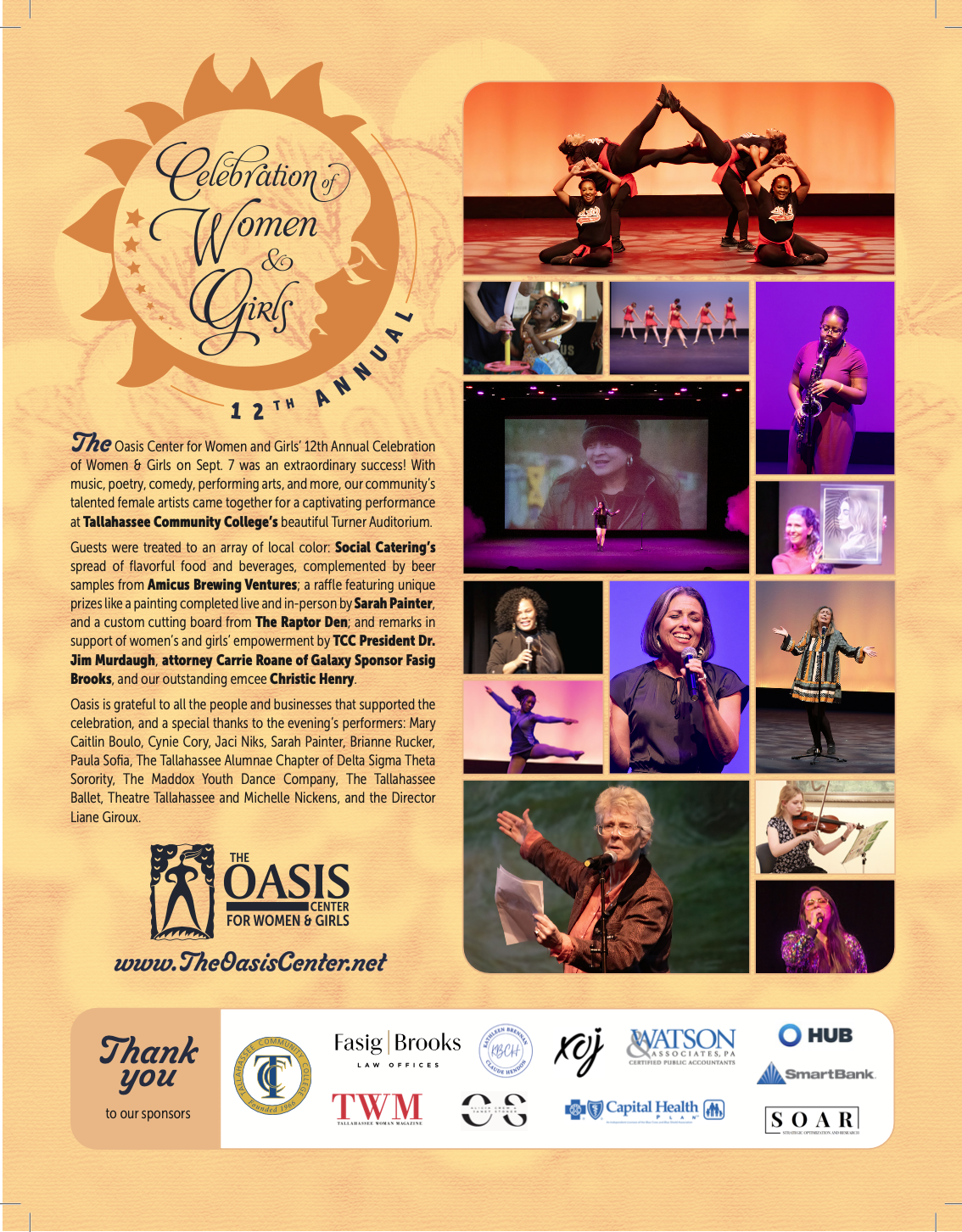 We can all be catalysts of change
The Oasis Center for Women and Girls' 12th Annual Celebration of Women & Girls on September 7 was an extraordinary success! The evening was filled with captivating performances by local female artists, including music, poetry, dance, performing arts, and more. Hosted by Tallahassee Community College at their beautiful Theatre TCC, guests were treated to delicious food and refreshing beverages served by Social Catering. Guests were delighted to sample beer from Amicus Brewing Ventures.
Throughout the evening, attendees had the opportunity to win prizes, including a painting by Sarah Painter completed live at the event, and a custom cutting board from The Raptor Den. Christic Henry was an outstanding and entertaining Emcee for the evening. Dr. Jim Murdaugh, President of TCC, opened the evening with an overview of how TCC supports programming and leadership of women. Galaxy Sponsor Fasig Brooks representative Carrie Roane warmly welcomed the audience and shared Fasig Brooks' commitment to empowering women and girls.
Oasis is grateful to all the people and businesses that supported The Celebration of Women & Girls. They are also very grateful for the performers for the evening: Mary Caitlin Boulo, Cynie Cory, Jaci Niks, Sarah Painter, Brianne Rucker, Paula Sofia, The Tallahassee Alumnae Chapter of Delta Sigma Theta Sorority, The Maddox Youth Dance Company, The Tallahassee Ballet, Theatre Tallahassee and Michelle Nickens, and the Director Liane Giroux.
Photos from 2023 are available here!